I've occasionally chimed in to discussions about non-frame combat units to share my philosophies and recommendations on how to treat the subject. I think it's high time to lay all the cards out on the table, as it were, and consolidate those views into a single post for your collective consideration. Despite these being my opinions, I have no delusions about what is the "right way to play" in regards to something as arbitrary as house-rules, but I hope they make sense, fall in line with the source material, and are appealing to those reading. Without further ado...
Generic properties of non-Frame Combat Units:
To paraphrase the MF0 rule-book;
"Frames are the best at what they do, and that's everything. Racing. Combat. Labor. Nothing can do it safer, faster, or more effectively than a Frame."
Without altering the game's mechanics to specifically hutch over vehicles, the easiest and most sensible way to limit their effectiveness is to take away their utility.
Non-Frame units do not receive
in their Dice Pool.
This hampers their reliable damage output, their flexibility in combat, lowers their hit-points, and even makes sense, fluff wise. If a Jeep loses its wheels (d6G), it has no limbs to drag itself along. If a tank's armor is compromised (d6B), it can not dodge. Hopefully, you get the idea. It should be noted that there is no way to install white dice as a system, nor should there be, in this context. This rule also has no effect on PPA, number of frames, or number of systems in an army. We're not quite done yet, though. At first this may seem like a low blow, but trust me on this one, I'm hoping to make it up to you.
Non-Frame units do not receive bonus
for carrying no ranged weaponry.
Alright, everyone survive that huge-ass nerf? Good. Since we've done our jobs and made vehicles an inferior choice to Frames, let's go ahead and try to ease the sting with a bit of unique functionality with specific rules tweaks.
Infantry Units:
Powered Armor; Micro-Frames; Drone Troopers; Standard Infantry; Grey-Goo; a squadron of highly-trained and heavily-armed Chimpanzees
I love the idea of power-armored troopers or dispersed groups of standard infantry working together to topple a big scary combat machine like a Frame. The concept of anti-tank infantry in historical context, or the infantry and BA squads in Battletech always appealed to me. I am perfectly satisfied with using unmodified frame-combat rules (albeit I prefer to represent them in a dispersed-systems format), so we're going to give them a miss.
Infantry units are not subject to the above rules because Humanity itself was the original Mobile Frame.
If you're worried about the amount of hit-points a human(or non-human) has compared to a frame, remember that it's rarely a single person who is capable of crippling a mighty war-machine. Teamwork, and thus dispersed casualty, more than justifies their application here. If you're still not convinced, just pop off one of their white dice. Simple. MOVING ON!
Ground Vehicles:
Tracked; Wheeled; Hover; Watercraft; Trains; Transformed Frames; Skimmers; Horse-drawn Battle Chariots driven by Gladiator Gorillas
Ground Vehicles do not ignore obstacles for movement purposes due to having movement systems.
Ground Vehicles have the ability to perform a Ramming Special Attack utilizing their
in lieu of any Red System.
To use a Ram Attack, declare the intent to do so- and the attack's target- during the Start-Of-Activation phase, as if it were a weapon range specifically available to Ground Vehicles. A vehicle must have the option to move in order to Ram, but is not compelled to do so. When a Ram is executed, the
are only rolled once, with the result being used for both movement and attack. The vehicle's
becomes a replacement for any Red Dice that would be rolled, in addition to allowing the vehicle to move that many Segments of the Ruler. As long as the Vehicle ends its movement within 1 Segment of its target, the attack is successful. Compare (Attacker's
+ Defender's
- Defender's
) and roll Damage.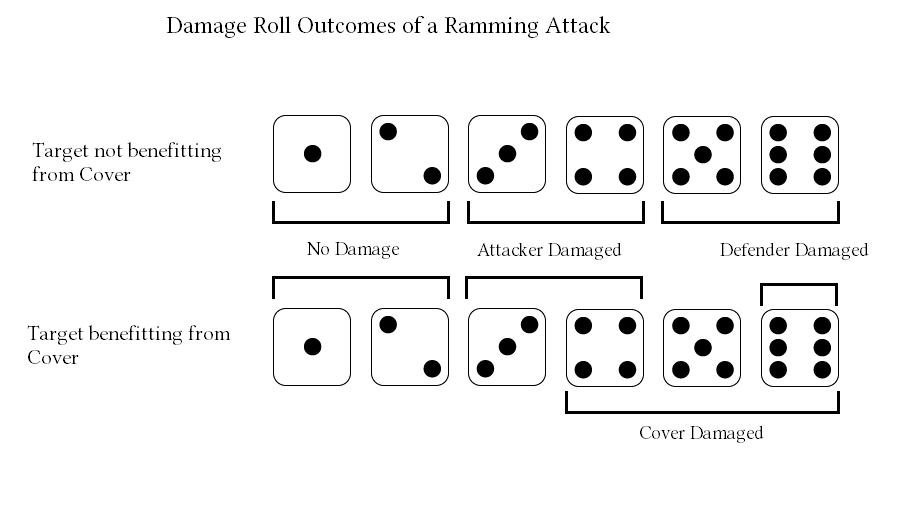 You'd be right to think this is a risky endeavor. It's a last-resort attack best reserved for when your options are limited and a daring play could make-or-break you. Also, the ability to crash through a wall, Kool-Aid-Man-style, is always a blast.
Flyers:
Jets, Aerospace, Prop-Planes, Helicopters, VTOLs, Transformed Frames, Gliders, Rocketeers, UAVs, The Wicked Witch of the West's Flying Monkeys
All Flyers' movement systems are
.
Flyers ignore obstacles for movement purposes.
If ever a Flyer has no movement system, it is destroyed.
Flyers may never benefit from Cover.
Flyers never have the option to Ram.
Every turn, a Flyer's movement path both exits and re-enters the battlefield from any edge.
"
Wait, what was that last part?
" Don't worry. It sounds more complicated than it is, and I think you'll like the rule once you feel it out. A Flyer's movement is measured and treated the same way as anything else with a
. It ignores obstacles for movement, and can move up to 8 ruler Segments in any direction. When movement ends, even if your unit chose not to use its movement dice and stayed in place, you are treating the model as if it had moved off the playing field and returned all in the same turn.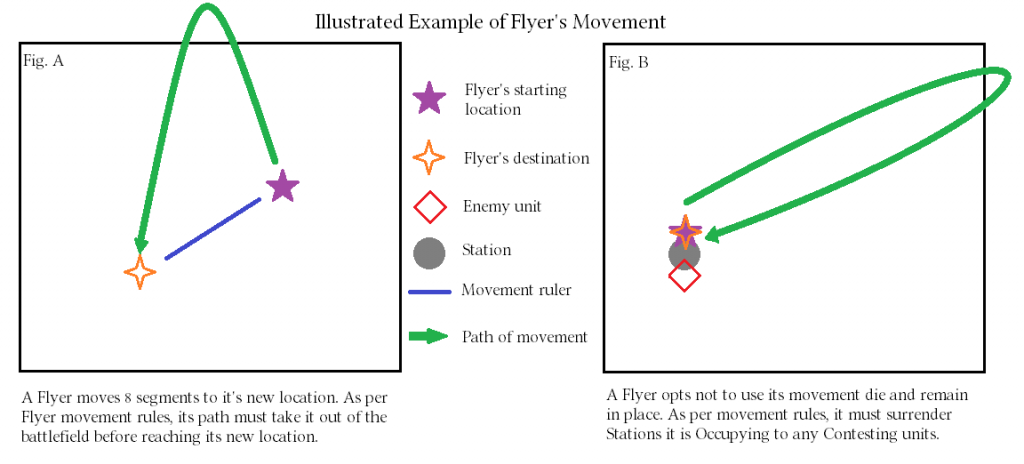 This allows a Flyer to capture Stations quickly- like a melee-specialist Frame- while making it incapable of HOLDING a Station against a Contesting unit on its own. If you want to use aircraft as close air support, I can get behind that. But remember that it's close air
SUPPORT
; you need boots on the ground to maintain a hold on objectives. If you really want your chopper to be able to idle in place (tactical suicide) on an objective and camp it like a normal unit, make it a ground vehicle! Then at least you'll have the option to take cover, dice your foes up with your rotor blades, and not explode gloriously if you crash!
Joviality aside, my rules for Flyers come with a pretty serious warning. Flyers enable a tactic known as "Kiting". Kiting- if you're unfamiliar with the term- means that through no fault of your own, you may suffer attacks from an enemy with no chance to over-take them and return fire. You might come up against a Direct Fire gunboat with a sixteen-segment threat-range. You may find yourself completely incapable of getting inside an Artillery Flyer's minimum. It just pulls you along behind it, controlling the pace of the fight, like a Kite. The only reasons I am releasing rules that enable such a disruptive tactic are that a Flyer sacrifices a LOT of functionality to be able to do so, it won't be spending much time ON objectives, and if you can flank it, it's toast. Ultimately, if the dice won't cooperate, no tactic is foolproof. I trust you all as adult(?) gamers to keep the TACT in Tactics.
That's all I've got for fun rules for Non-Frames. I'd love to hear what you think, if you've used them, and how it all turned out. Suggestions, discussion, and criticism are always welcome, as long as it's all civil. (It appears that the embedded pictures have snipped a marginal segment off of the Flyer Movement figures, but no actual harm done. It still accurately depicts the movement, just barely cutting off the board edge the Flyer exits and enters from.)
[Edited to clarify the difference between ground movement and aerial movement.]