Battle Simulations
So I figured that while I'm waiting for the rules (and thus something solid to put under the nose of any potential converts), I'd run some battle simulations to test some company builds, with what limited knowledge of the rules was currently available to me. This is with the goal of producing a company style that suits my playing style, as well as being effective within the rules. I've likely made a lot of foolish tactical decisions, but I haven't put my hand to a real strategy game in some years. Therefore, please forgive any really stupid tactical decisions that are, perhaps, glaringly obvious to you, that I have missed.

I have judged movement and weapons range with a circular ruler, but have attempted to confine frame position to a hexagonal grid, in order to make things simple, and distance easy to judge at a glance without the aid of the ruler, and because the ruler is not included in the final images.

I thought I would share this test, as there are not many battle simulations with which to judge an effective company yet available to those of us who do not have any other MFZ enthusiasts nearby. Also, if I have made a mistake with the rules, please let me know. Some things were unclear, or have yet to be explained, so I took a guess.

NB: I forgot about the SSR's half the time. This was done at a time while I was ill, and very tired. Apologies for the slightly inconsistent notation.
Questions are welcome.
Company Specs
Orange Team
Anvil 1:
Anvil 2:
Goalie 1:
Goalie 2:
Purple Team
Captain:
Guard Support:
Protector:
Swarmer 1:
Swarmer 2:
Key
Black Polygons: Opaque cover
White/Light Blue Polygons: Translucent cover
Circles: frame position markers
Coloured polygons: team stations
Yellow numbers: Spots on a frame
Red Numbers: Total damage to a frame
Coloured Lines: frame movement
Battle Setup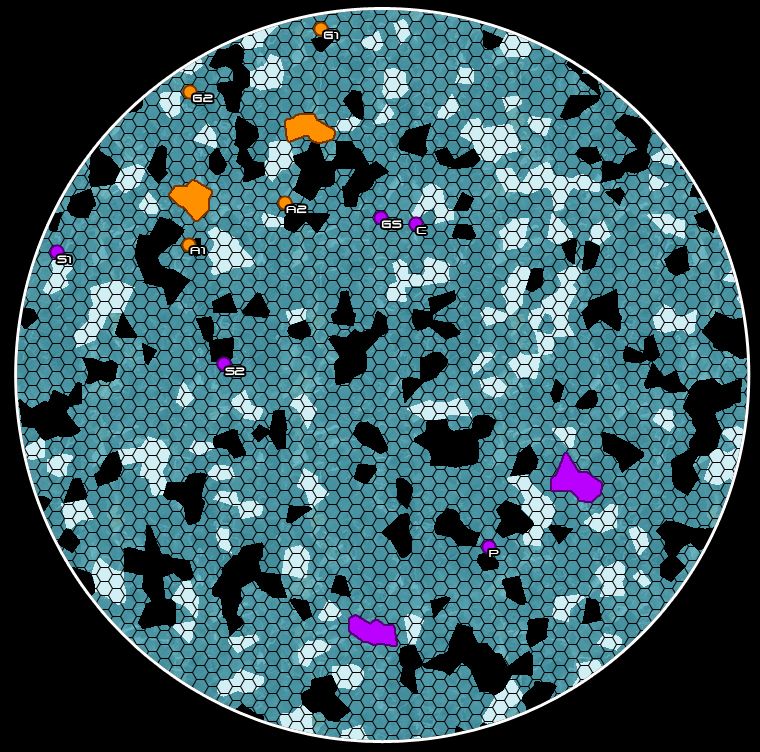 Round 1 End
Round 2 End
Round 3 End
Round 4 End
Round 5 End
Round 6 End
I will be running more of these simulations as I revise the company I am testing.