A couple of years ago, I posted the
Shorty chassis
on my blog. While it isn't great, I do like a few things about it. Namely:
It is simple, with only 23 parts in the base chassis.
It is quite posable, rotation on one axis in the neck, elbows, wrists, ankles and hips, and rotation on two axes in the shoulders and the waist.
It features a surprisingly strong connection in the torso (stud to center circle of plate), making the frame a lot more solid than you might guess.
It is highly customizable, with various places where one part can be replaced with a host of others for different types of load.
Also has some bits I don't like:
It is sparse looking, not quite filled out. Sort of amateurish looking.
The feet are too small, giving it a slight balance problem (not as bad as you might guess).
Some major wasted rotation. There are two connections (the top and bottom stud of the travis brick) that allow full rotation around an axis, but they are stacked such that they both rotate around the

same

axis, which is useless.
Hips only allow rotation around X axis. Would like rotation around y axis as well.
Here is a render of the original basic Shorty frame: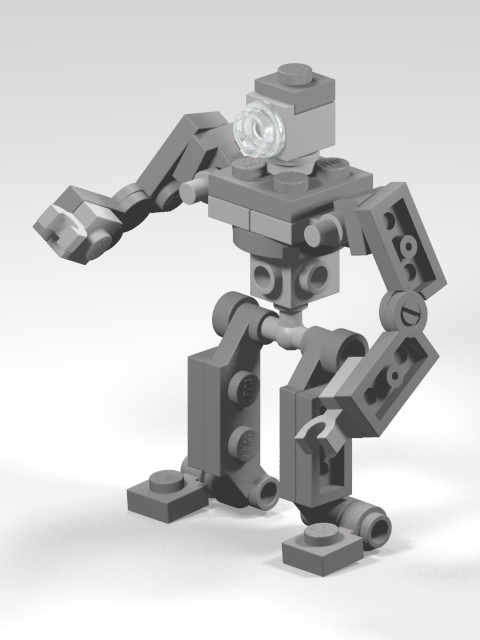 In this thread, I will be experimenting with variations on the Shorty, to try to make it into more of a modern, high quality frame.